An open-source Java IDE and platform for rich client applications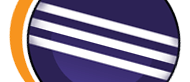 What's new in this version:
New and Noteworthy:
Platform:
- Configure left and right sides in Compare editors (new in 4.6.2):
- Compare editors now offer a button Swap Left and Right View. The direction of comparison is preserved between invocations of the Compare editor and can also be changed in the Compare/Patch preference page.

PDE:
- Validate launch configuration activated by default (new in 4.6.2):
- When you create a new Eclipse Application launch configuration, PDE will now by default enable the option to Validate Plug-ins automatically prior to launching. This helps you to identify missing plug-in dependencies before the actual start of the application and makes it easier for new plug-in and RCP developers to identify common problems. You can disable this validation in the launch configuration dialog, on the Plug-ins tab.

Platform Developers:
Stable sorting in viewers based on ViewerComparator (new in 4.6.2):
- The org.eclipse.jface.viewers.ViewerComparator now ignores decorations from a DecoratingLabelProvider during its sorting. For example, if the EGit team provider is used, it prepends "> " for changed files. This additional "> " is now ignored.
- The goal of this change is to eliminate java.lang.IllegalArgumentException: Comparison method violates its general contract! that could occur when label decorations were updated in the background.
- For now, you can disable this fix by setting the system property eclipse.disable.fix.for.bug364735 to true. This temporary system property is planned to be removed unless issues with the new sorting are discovered.