Unreal Engine is a game engine developed by Epic Games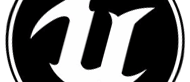 What's new in this version:
Chaos physics and destruction (Beta):
- Fracture, shatter, and demolish massive-scale scenes at cinematic quality with unprecedented levels of artistic control! Simulate in real time, or pre-cache larger sims for real-time playback. The Chaos system is integrated with the Niagara VFX system for secondary effects such as dust and smoke.

Enhanced real-time ray tracing (Beta):
- First introduced in UE 4.22, ray tracing has received numerous enhancements to improve stability and performance, and to support additional material and geometry types—including landscape geometry, instanced static meshes, procedural meshes, and Niagara sprite particles.

Next-gen virtual production tools:
- Now you can achieve final shots live on set, with LED walls powered by nDisplay that not only place real-world actors and props within UE4 environments, but also light and cast reflections onto them (Beta). We've also added VR scouting tools (Beta), enhanced Live Link real-time data streaming, and the ability to remotely control UE4 from an iPad or other device (Beta).

Virtual Texturing (Beta):
- Unreal Engine 4.23 introduces both Streaming and Runtime Virtual Texturing—where large textures are tiled and only the visible tiles loaded—respectively reducing texture memory overhead for light maps and detailed artist-created textures, and improving rendering performance for procedural and layered materials.

Unreal Insights (Beta):
- The Unreal Insights system collects, analyzes, and visualizes data on UE4 behavior for profiling, helping you understand engine performance either live or from pre-recorded sessions. As well as tracking various default sub-systems and events, you can also add your own code annotations to generate trace events.

HoloLens 2 support
- Support for HoloLens 2, initially released as Beta in May, is now production-ready. Features include streaming and native deployment, emulator support, finger tracking, gesture recognition, meshing, voice input, spatial anchor pinning, and more.