Share one Mouse and Keyboard with Multiple Computers!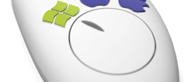 What's new in this version:
ShareMouse 6.0.53
Fixed:
- Rare issue when ShareMouse is being launched with Windows startup


ShareMouse 6.0.52
- Improved monitor input switching support


ShareMouse 5.0.51
- New: Improved update notification dialog.


ShareMouse 5.0.50
- Fix: An attempt to avoid "port locked" message after logging in again.
- Fix: License key could not be registered with specific regional settings.