Easily creating and manipulating numerical data with NumPy!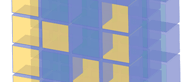 What's new in this version:
- The NumPy 1.21.4 is a maintenance release that fixes a few bugs discovered after 1.21.3. The most important fix here is a fix for the NumPy header files to make them work for both x86_64 and M1 hardware when included in the Mac universal2 wheels. Previously, the header files only worked for M1 and this caused problems for folks building x86_64 extensions. This problem was not seen before Python 3.10 because there were thin wheels for x86_64 that had precedence. This release also provides thin x86_64 Mac wheels for Python 3.10.

- The Python versions supported in this release are 3.7-3.10. If you want to compile your own version using gcc-11, you will need to use gcc-11.2+ to avoid problems.