Easily creating and manipulating numerical data with NumPy!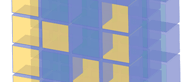 What's new in this version:
- Code compatibility with Python versions < 3.6 (including Python 2) was dropped from both the python and C code. The shims in numpy.compat will remain to support third-party packages, but they may be deprecated in a future release. Note that 1.19.x will not compile with earlier versions of Python due to the use of f-strings.