Unreal Engine is a game engine developed by Epic Games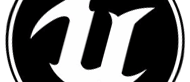 What's new in this version:
Visual Dataprep:
- Easily automate data preparation workflows—even if you're not a programmer—with a new simplified visual tool that lets you create a "recipe" of filters and operators that you can save and reuse on other scenes or projects. Make LODs, set up Lightmap UVs, substitute materials, and delete or merge objects based on factors such as class, name, metadata tags, or size.

Atmospheric skies:
- Create realistic real-time outdoor environments—including sunsets and space views—in a few clicks. The Sun Positioner now contains a new physically based SkyAtmosphere component that enables you to render an atmosphere that can be viewed from the ground or from the air, and to dynamically change the time of day.

Nondestructive landscape creation and editing tools:
- Create and edit large terrains directly within the Unreal Editor with the new ability to add multiple height maps and paint layers to a landscape, and to edit them independently of each other. Plus, use Blueprint to create unique custom brushes, such as one that automatically fits the height of the landscape to the bottom of buildings.