Latest Version:

PC Health Check 3.7.220415001 LATEST

Requirements:

Windows 10 64 / Windows 11

User Rating:

Click to vote

Author / Product:

Old Versions:

Filename:

WindowsPCHealthCheckSetup.msi

MD5 Checksum:

19f9f47364bed03c75d1d252e37abcb6
PC Health Check
is the lightweight system information listing application from
Microsoft
Corporation (
Windows 11 Compatibility Tool
), that allows Windows 10 users to officially
check if their PC is fulfilling all requirements
that are needed for the
installation of Windows 11
, the brand-new operating system that arrived on the market at the end of 2021.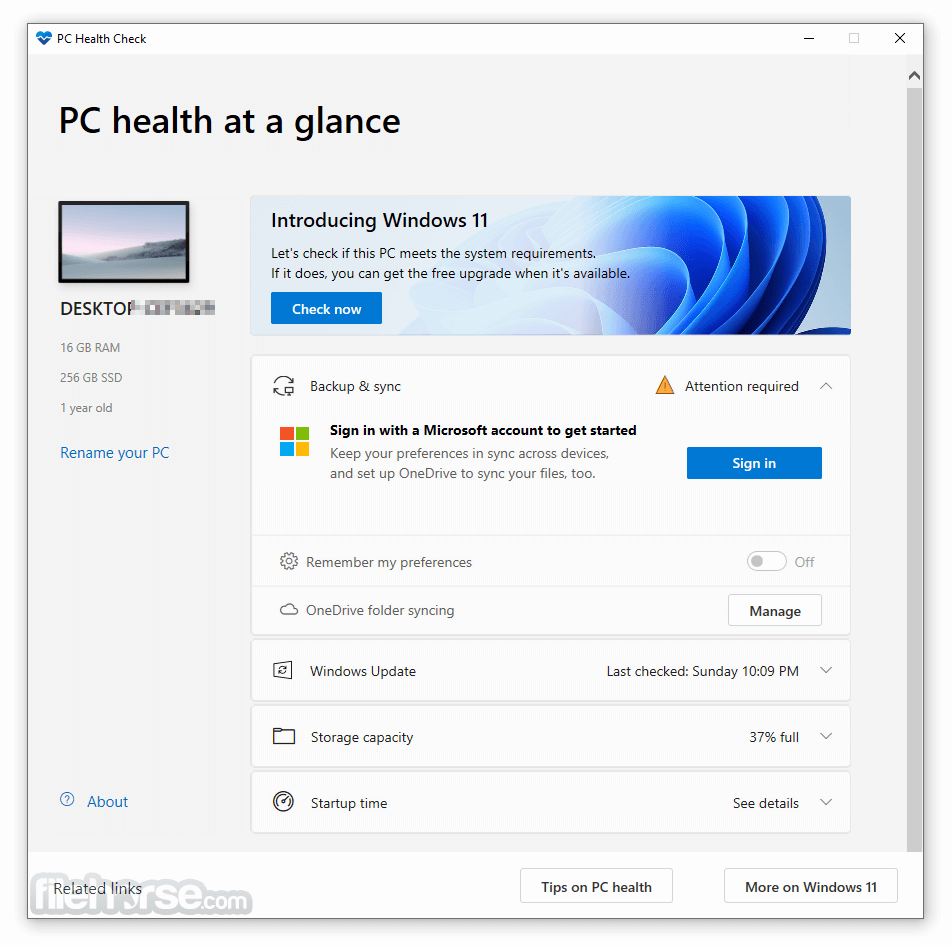 While this
Microsoft PC Health Check: Windows 11 Test Tool
has the ability to list some of the most basic hardware components present in desktop or laptop PCs, the main feature of this app is mostly centered on answering the question "
Can I run Windows 11
?". Sadly, its worst feature is that it does not explicitly list all the requirements that a user's PC needs to pass.
How to check if your laptop can run Win 11
The app is distributed online as an automated installer that can be easily downloaded and deployed on local storage by just following a few simple on-screen instructions.
Once installed, the
PC Health Checker
app can be run on any version of
Windows 10
. The app features just a single dashboard screen that lists a few of the important hardware and OS features listings, which include the name of the PC, its CPU, RAM size, storage size, and the presence of Windows 10 features such as Backup & Sync, One Drive Syncing, Windows Update state (the last installed update), Storage capacity, and the last Startup time.
However, the main feature of the app is placed on the very top, where a large promotional banner introduces
Windows 11
to the users. There, anyone can simply click on the blue "
Check now
" button and receive an instant prompt that will announce whether or not the host PC will be able to receive automatic
FREE updates from Windows 10 to Windows 11
.
Minimum System Requirements to Run Windows 11
The
PC Health Check
tool primarily checks for strict hardware requirements of Windows 11, which include at least
1GHz dual-core 64-bit only CPU
,
4GB of RAM
,
64GB or more of storage space
,
DX12 capable graphic card
, and most controversial, the presence of UEFI & Secure Boot capable motherboard, and Trusted Platform Module (TPM).
These last two requirements essentially mean that only owners of fairly new hardware components will be granted access to the Windows 11 update. According to Microsoft, these requirements were placed to ensure greater security for their users and their data.
While lightweight, this
system diagnostic
app can help anyone determine whether or not their PC is ready for Windows 11. It does not provide much information about the upgrade process, but at least it can answer which part of the hardware requirement is lacking.
PC Health Check
(Windows 11 Compatibility Tool) is 100% FREE and can be run only on Windows 10 PCs.
How to Enable the Trusted Platform Module (TPM) on your PC
During the server startup sequence, press the F9 key to access System Utilities.
From the System Utilities screen, select System Configuration > BIOS/Platform Configuration (RBSU) > Server Security.
Select Trusted Platform Module Options and press the Enter key.
Select Enabled to enable the TPM and BIOS secure startup. The TPM is fully functional in this mode.
Press the F10 key to save your selection.
When prompted to save the change in System Utilities, press the Y key.
Press the ESC key to exit System Utilities. Then, press the Enter key when prompted to reboot the server.
Here are the instructions for opening PC Health Check:
In Windows, locate the Search bar on the taskbar.
Type "PC Health Check" in the search bar and wait for the results to appear.
From the list of results, select "PC Health Check" to open the application.
If there is an update available for the app, you can install it to ensure you have the latest version.
To perform backup and sync operations
Sign in with your Microsoft account or create a new one.
This allows you to sync your preferences across devices, including passwords, Microsoft Edge browser settings (such as favorites and reading lists), themes, and more.
You can also back up your photos and files to OneDrive, ensuring they are protected and accessible on all your devices.
For Windows Update-related tasks
It can notify you if your device requires Windows updates or attention.
If there are updates or issues, the application will provide you with this information.
To access Windows Update in Settings, select "Open Windows Update."
To monitor battery capacity and receive battery-saving tips
It provides information about battery performance for devices with one or two batteries.
Battery capacity details are available for devices older than 3 years.
To view battery-saving tips, select "See battery-saving tips" and follow the recommended steps to improve your battery life.
To check storage capacity and manage storage settings
It displays the amount of storage space used on your device's main drive, which includes files, apps, and Windows.
The app shows the percentage of how full your drive is.
Expand this section for information on available free space.
To manage storage settings, select "Manage storage settings" to enable Storage Sense or receive cleanup recommendations.
To view startup time information and manage startup apps using PC Health Check:
It provides details about your device's startup time and the factors that affect it.
You can also review and modify your startup apps by selecting "Manage your startup programs."
For additional tips on improving device performance
Select "Tips on PC Health" to access more ways to enhance the performance of your device.
To view device specifications and rename your PC
Below the device image in PC Health Check, you can find additional information about your device, such as its age and storage amounts.
If you wish to give your device a different name, select "Rename your PC" and follow the instructions provided.
Alternatives
PROS
Quick and Easy
Comprehensive Analysis
Identifies Performance Issues
Improves System Stability
Easy Download and Deployment
Enhances Security
CONS
Requires Expertise for Action
The Update is Not Frequent
Relies on Software Accuracy
Limited Information on Updates
Inadequate Windows 11 Requirements Analysis
Conclusion
The
PC Health Check
app is easy to download and install, and it is free to use. It
provides a quick and easy way for users to determine if their PC is ready for Windows 11
. However, it does not offer detailed information about the upgrade process itself. It can be helpful in identifying which hardware requirement is lacking but may require some expertise to take appropriate action.
Overall,
the app offers a comprehensive analysis of a PC's compatibility with Windows 11, enhances system stability, and emphasizes security
.