Latest Version:

Zoho Workplace LATEST

Requirements:

Windows 7 / Windows 8 / Windows 10 / Windows 11

User Rating:

Click to vote

Author / Product:

Old Versions:

Filename:

ZohoWorkplace.exe
Zoho Workplace
is a powerful
web service that unifies various web services
offered by Zoho Suite in order to enhance productivity and collaboration within teams. This powerful
productivity platform
provides users with a seamless experience for communication, document management,
project collaboration
, and more, enabling businesses seeking to modernize their day-to-day operations with a fully-featured web platform that can be scaled to any size.
Offered in three distinct premium subscription tiers, this
productivity suite
can satisfy the needs of everyone, from startups to small businesses to large multinational corporations who strive to boost their productivity,
enhance collaboration
, and be flexible in supporting their employees with streamlined web tools.
Key FeaturesWide selection of Zoho products
– Take control over many aspects of daily business productivity with streamlined webapps.
Easily Deployed
– Access all business apps via a streamlined web dashboard.
Streamlined Collaboration
– Remain in touch with projects, colleagues, clients, and the public with built-in collaboration tools.
Easy Remote Work
- All employees can access their Zoho Workplace dashboards from any modern computing device.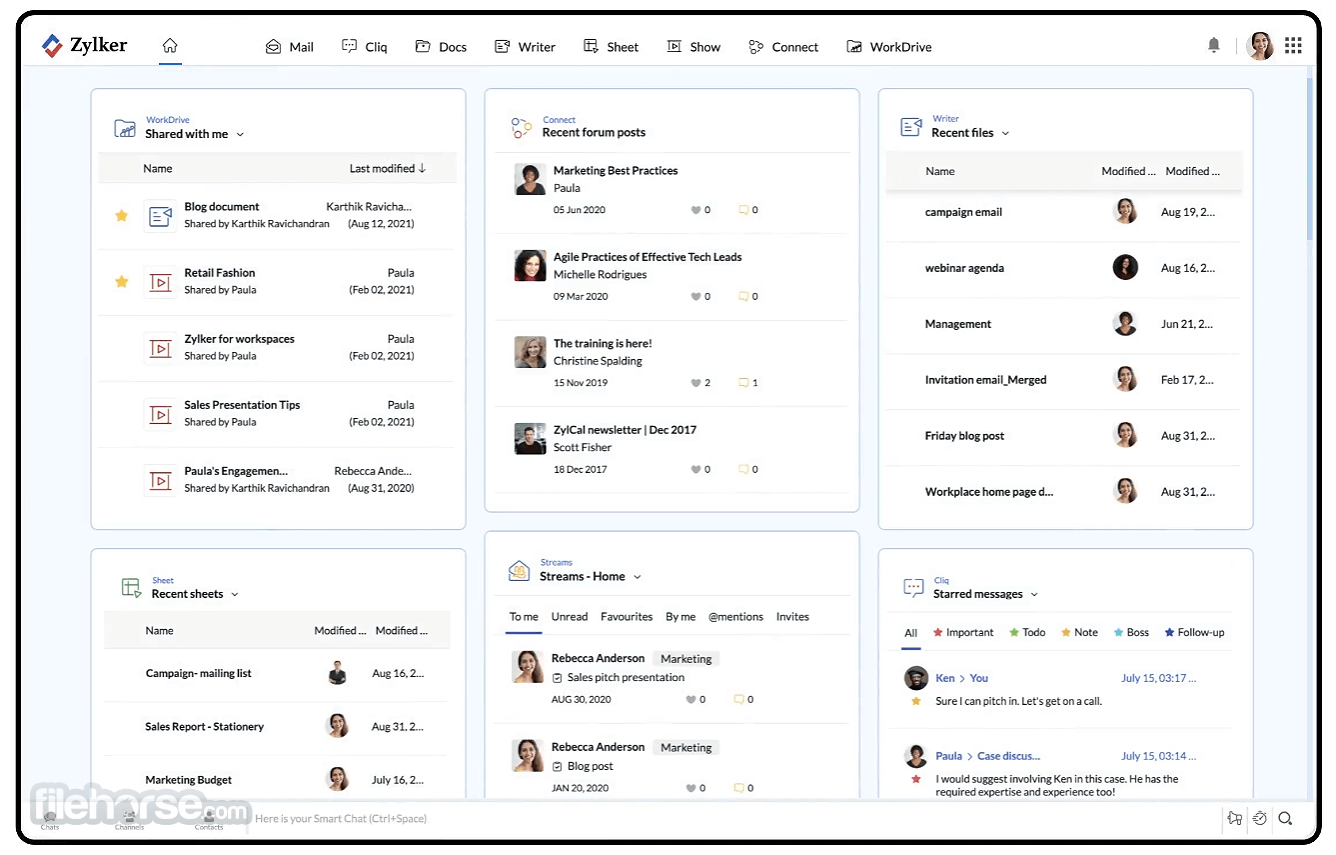 How to Use
To get this excellent productivity web service up and running on any modern PC, users simply have to sign up for an account, choose the desired applications to access, and simply start to customize their workspace with the
UI tools
available inside every Zoho app.
The intuitive interface makes it easy to navigate between different tools and collaborate with team members, enabling users to stop relying on standalone desktop apps and focus on getting their job done completely in the cloud.
In order to get up and running quickly, completely new users can learn more about this web service capabilities using comprehensive
documentation and video tutorials
that are offered by the
Zoho
platform.
User Interface
This web app features a clean and
user-friendly interface
, enabling both beginners and experienced users to navigate a streamlined dashboard that can be populated with their most used web apps.
The top of the app features a listing of all available apps that are covered by the user's subscription tier, but the majority of the dashboard is populated with the webapp modules. This enables users to quickly get listing and reports about their most recent emails from the
Zoho Mail
app, chat messages from the
Cliq
app,
Calendar
events, shared files, upcoming events, and more.
All of the present applications are well-organized, and the consistent design language across the suite ensures a seamless user experience.
In addition to the use on desktop and laptop PCs, the full capabilities of this web platform are also available on mobile devices via native iOS/Android apps.
FAQWhat is Zoho Workplace?
Zoho Workplace is an all-in-one web service that offers teams and businesses of all sizes a suite of cloud-powered applications for communication, document management,
project collaboration
, and more, all inside a simple-to-use dashboard.
Is it safe?
This cloud-powered productivity platform employs industry-standard encryption protocols and regularly updates its security measures to protect user data. Since there are no local apps needed to be used,
businesses
and users cannot infect their local hardware with malicious software.
What apps are part of Zoho Workplace?
Email, File Management, Chat, Spreadsheets,
Word Processor
, Presentation, Social Intranet, and Online Meetings.
Alternatives
Google Workspace
– A popular productivity platform that includes email, document management, collaboration tools, and other services powered by the Google Cloud ecosystem.
Microsoft 365
– Professional suite that includes the famous Office application pack and many other productivity services managed by Microsoft.
Pricing
Users can pick between one free and three premium subscription plans. The
free plan
is focused on 5 person teams who require access only to basic web apps.
Premium
plans "
Standard
" and "
Professional
" bring with them a comprehensive list of powerful Zoho apps, while the unique "
Mail
Only
" plan is focused only on email collaboration features.
The FREE trial provides 15-day access to a "Professional" plan.System Requirements
Since this is a web-based service that is accessible through a web browser, there are no additional strains on the local processing hardware. Users on PCs and Macs can access it from any modern web browser (Chrome, Edge, Firefox, Safari, and others), while mobile users are best served with touch-friendly iOS/Android applications.
PROS
Extensive suite of applications for comprehensive business management.
User-friendly interface and intuitive navigation.
Seamless integration with popular third-party services.
Regular introduction updates and new features.
Flexible pricing plans.
Robust security.
Generous free plan.
CONS
ConclusionZoho Workplace is a versatile web service that offers a comprehensive suite of applications to enhance productivity and collaboration
within
business
environments. Available both as a free service and premium subscription, this productivity platform
can modernize and streamline the daily operations of businesses of all sizes
.